Ravenscroft 275 VI is now ready! March 02nd, 2014
Great news! While we apologize for the delay in the release of the Ravenscroft 275 Virtual Instrument, we are happy to announce that it is finished and that all pre-sale orders will be delivered on March 4, 2014. New features and improvements have been added and required thorough testing before it could be released. It is now complete and is a piano virtual instrument we are all very proud of.
All pre-sale orders will be delivered on March 4th, and the pre-sale price will remain in effect until March 5th which will conclude our pre-sale period. We are also adding new audio demos and videos, so keep checking back as the days to come will be very exciting at VI Labs. Thank you to all those who have ordered and for your patience as we have made the Ravenscroft 275 Virtual Instrument one of the best virtual pianos ever!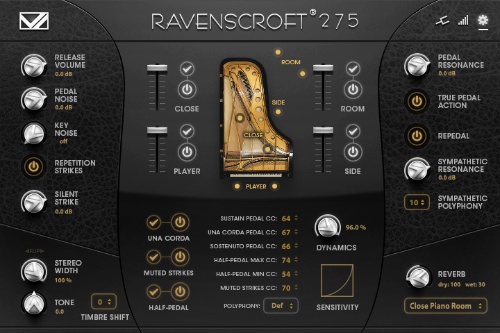 Ravenscroft Update February 14th, 2014
We wanted to give everyone a quick update on where we are with the Ravenscroft virtual instrument. We are currently entering the last stage of development and testing. We're working as hard as we can to get everything finished up and we will continue to keep you updated as we get closer to release.
A few people have already asked about the sale. Yes, we will keep the pre-release sale going until the release goes live. Feel free to contact us if you have any other questions.
More NAMM 2014 Footage February 04th, 2014
Watch as Erik Griggs plays the Ravenscroft virtual instrument at the 2014 NAMM Show in Anaheim. Click HERE to read more about the Ravenscroft virtual instrument or get your pre-order in place. The pre-order sale is on until we're ready to release the new piano on or around 2/14/14.
Now Accepting Pre-Orders February 01st, 2014
We're pleased to announce that pre-orders for the Ravenscroft Model 275 virtual instrument are now live! Learn more about the Ravenscroft Model 275 under the products page up above. We'll be continuously adding videos and audio demos from now until we're ready to release the Ravenscroft in about two weeks or so.
Keep checking back for more information. Anyone who pre-orders before release will also be able to save $50 over the normal $199 price.
NAMM Show Recap January 29th, 2014
Thanks again to everyone who came to see us at the NAMM show. We're pleased to report that everyone was blown away by the Ravenscroft virtual instrument we debuted at the show. We're already seeing reviews pop-up on various websites and in the forums so thank you everyone. In fact, PianoManChuck (video below) gave us his best in show award for digital pianos at the NAMM show among all the other big contenders including Korg, Yamaha, Nord, Casio, and Kurzweil so we're very honored.
We wanted to pass some other information about the Ravenscroft Pianos along as we've been getting a lot of questions. Here are some details:
- The Ravenscroft will be around 38GB fully installed and comes as an 8GB download.
- We suggest running it on an Intel Core2 Duo or faster processor with 4GB of RAM or more.
- It will be cross-platform just like True Keys and work stand-alone, or as a plug-in within all the popular formats.
- Pre-orders will start on January 31st and we intend to release it on February 14th, 2014.
- The price will be $199.99, but we will have a pre-order sale from January 31st until release of $149.99.
Unrivaled. January 24th, 2014